30 September 2022
Meet our Marketing Director Brand-Direct, Robin ten Hove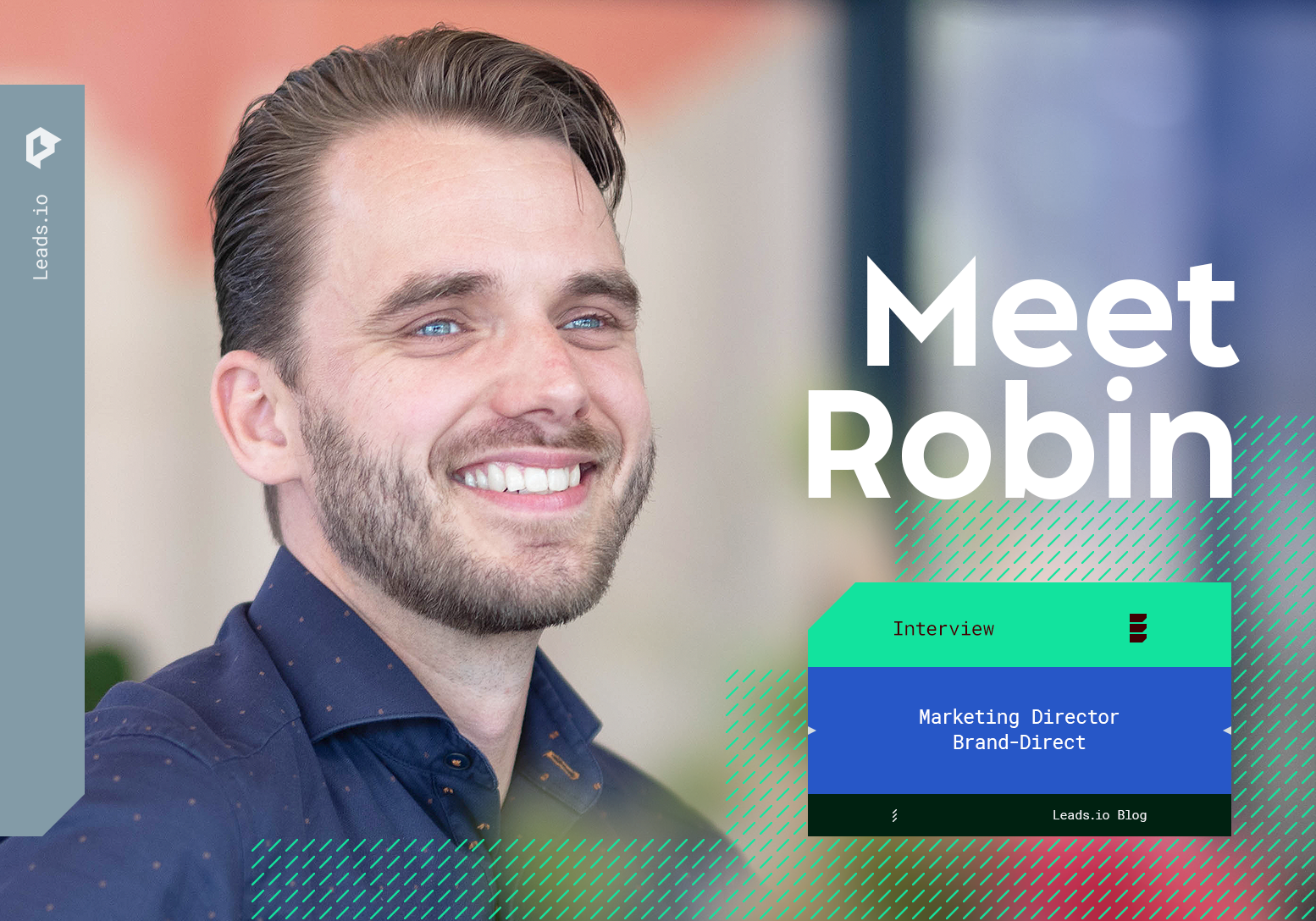 "The most exciting thing about our industry is that we can always track the data and see what's working best. Information gives you the freedom to test ideas, improve the performance of our campaigns and increase the ROI for our clients".

Get to know our Marketing Director Brand-Direct at Leads.io in this interview.
Can you tell us something about yourself, your background, and where you grew up?
I grew up in Purmerend in the Netherlands and lived here all of my life. I went to university in Amsterdam, which made for an easy commute. When I graduated, I thought about moving to our capital, but I found a job in Hoorn a few years ago when we were still Social Blue. Because of the shorter commute, this made it easier for me to stay in Purmerend.
As a child, I did some acting and was always busy doing a play or something. I also participated in many sports – tennis, basketball, and swimming – but never stuck to just one sport as I like to change it up now and then!
An interesting fact, ever since high school, I knew I wanted to end up in advertising or a marketing agency. It has always been my ambition, and I'm happy I reached my goal. Until this day, I am very excited to be in this field.
Can you tell us a little bit about your journey and how you landed a job at Leads.io?
In college, I studied commercial economics. After that, I did a master's degree in communication science. The subject is truly fascinating, and in my current role, I still apply the things I've learned during my studies.
A few years ago, the field looked very different from what it looks like now, and it was hard to find a job at that time. After working as an intern at a French bank for ten months, I started working for a company that built mobile websites. In those days, few companies had mobile-optimized websites, and they hired me to do marketing and advertising. However, this role turned out to be all about cold-calling prospects. I found out that wasn't my cup of tea and started looking for something more related to marketing and advertising. 

One evening, my sister sent me a screenshot of a vacancy and tagged me in a Facebook post from a company looking for online marketers. I immediately wrote a letter and the following day I got a phone call from our CEO, Tim Roemer. After the interview, they offered me a position, and I've been here ever since. 
How do you explain what you do to your friends and family?
The first thing I mention is that we generate leads. But many people don't know what leads are. So, I explain that we establish contact between a potential customer who showed interest in a product or service, with the company we serve to extend their customer base. We generate leads for clients worldwide in many different verticals, and it's a lot of fun to work with various brands from all around the globe.
The cool thing is that we do everything from scratch. When clients start working with us or once they request more leads, we think of a strategy to achieve their lead generation goals. Then, based on that strategy, we build a complete online marketing campaign that will supply us with highly qualified leads for our clients. 
What is the most exciting challenge about your job?
The thrill and excitement in my role are related to working with data. Information gives you the freedom to test ideas. When my team comes up with a new approach, we roll out a test and immediately see the results. Tracking the success of our efforts and seeing how our campaigns are performing in real time never gets boring. 
Another exciting challenge is the pace at which we move at Leads.io. If you had asked me seven and a half years ago when I started, do you think you'll be here long? I would have never expected to stay at a company for so long. However, the company kept me intrigued because of the immense growth and positive changes throughout the years. This year we rebranded to Leads.io, we still have the same DNA, but there are new challenges every time. We keep growing, which allows me to keep learning and growing along with the company.
What advice would you give to the new people joining the company?
You must challenge yourself if you want to succeed and keep growing with the company. It's also important to share your knowledge and ideas, especially now that we are getting bigger.
Back when we were smaller, you could simply shout something, and everybody on the floor would know what was happening. Effective communication is vital since we have many offices worldwide, more colleagues, and different strategies to generate leads. If something you're doing is working, it is essential to share that knowledge because other teams may also benefit from your learning. Whether you're a marketer with a successful targeting strategy or a designer who has found a new way of showing a video adequately, knowledge sharing allows us to keep growing as a company. So, my advice for new colleagues is to speak up. Speaking up inspires others to share their learnings, and we can all learn from each other. 
What is your definition of success?
Success, I think, comes from two different aspects. The first one is the satisfaction of reaching your and the company's goals. The other component is also about your journey to achieve those goals. So it's important that what you're doing makes you happy and gives you energy. Success, to me, comes from doing things in a way that makes me happy. So it's not only about achieving the goal itself; it's about being satisfied on the road towards success.
What advice would you give our clients to make the most of working with Leads.io?
The most important thing for our partnership to work is trust. We trust the things that our clients tell us, and they trust our experience. We are experts in lead generation. So, when we propose a specific idea, we ask that our clients trust us because it is likely that we are testing something that is already proven in other campaigns. If it's a completely new idea, we test the hypothesis while always ensuring to keep generating high quantities of quality leads.
We have to keep innovating. What is working today may not necessarily work tomorrow. We must stay ahead of ourselves and have new action plans ready to ensure that our clients can keep getting the number of leads they expect each day. In the end, our pay-per-lead model means we take the risk of testing new strategies in our hands.
What is your number one productivity tip?
Focus. We work with a lot of clients worldwide, and our international team consists of various departments communicating via multiple platforms. So it is very easy to get distracted, mainly because each day will bring new things that need to do.
The best tip to ensure that important tasks are getting done is to just focus on that task. Don't let anything else let you get distracted from the task you were working on at that moment.
Let's say you see something coming in and need to decide: do I keep working on what I'm doing, or do I pick up a new task? Making those micro-decisions a few times a day will take so much of your time that you will never get done everything that's on your list. While focusing, you must be comfortable not looking at Workplace chat, email, or any Asana cards. I learned that the hard way by getting distracted way too much.
What is an essential part of your morning routine?
I've got two answers to that. The first one, and I think 50% of the people give this answer, is having coffee. But the most important for me is music. When I travel to work, I always listen to music. I have different Spotify playlists based on how I feel in the morning or what kind of energy I need for the day. Also, after work, I need to be listening to music. If I travel without my music to work or back, it will be a hard day. So, listening to music is even more vital for me than coffee. I will survive if I get to the office without coffee. But it will surely be a bad day if I have not listened to my music in the morning.
Speaking about your day, what is something you look forward to every day?
During my working day, I look forward to getting surprised. For example, if our team starts testing a new idea and it is working extremely well, or when one of my team members comes up with an excellent idea, that truly excites me. I love being surprised by what the day brings. If you already expected something and it works, that's nice. But when you see something that amazes you that you were not expecting, that's the best feeling.
What is your hobby, passion, or interest outside of work?
I've got a few for sure. Listening to music is one; whenever I'm in my car or at home, it's never quiet. I also love watching a series or a movie. Besides, I also enjoy acting, which I have done since I was 12. I participated in some short films my friends did in high school. I also joined a theatre group when I was 17. Unfortunately, since Covid, everything stopped, and we couldn't get together anymore, but I know there will be a day when I will return to the theatre! Furthermore, I enjoy cooking a nice fresh meal. It helps to ease my mind. I took a few workshops from a former Michelin Chef and learned about Italian cuisine, which I really love, so I know how to make good pasta and risotto!
Is there anything else we should know about Robin?
Being with my friends and family is really important to me. I have a great relationship with my parents, grandparents, and sister. My sister also started working at Leads.io this year, by the way. I also really enjoy spending time with my friends. I cannot be alone for too long. However, I enjoy being by myself and watching a series on Netflix, but after 1 or 2 days by myself, I can't wait to see people again!